Vinalines To Switch To A Joint Stock Company With New Name VIMC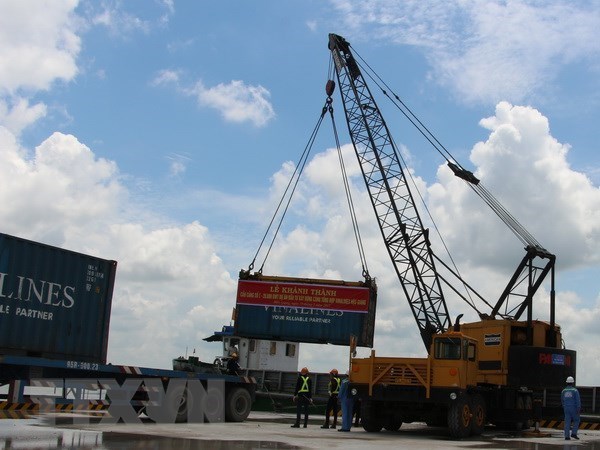 Goods are loaded at a port in Việt Nam. — VNA/VNS Photo
HÀ NỘI — Việt Nam National Shipping Lines (Vinalines) will officially operate as a joint stock company with the new name Việt Nam Maritime Corporation (VIMC) from September 1.
This information was announced at VIMC's first shareholders' meeting in Hà Nội on Thursday.
Lê Anh Sơn, chairman of the board of members of Vinalines, said the conversion to a joint stock company was an important step in the corporation's operations, helping to increase resources for its parent company in innovating the management system.
From there, improving service quality and increasing competitiveness to ensure the sustainable development of businesses.
Besides, the official conversion to a joint stock company model has affirmed the successful restructuring of Vinalines under the direction of the Government.
Vinalines currently holds capital in 19 subsidiary companies and 16 associated companies.
According to the development orientation, the corporation will be an enterprise holding the leading position of the Vietnamese maritime industry, striving to become an enterprise with a regional brand name by 2030, which has the ability to compete at the international level and participate in regional market sharing.
Regarding production and business activities, leaders of Vinalines said that the picture of the world maritime industry in general would still have many difficulties and challenges.
The marine industry, which has not been overcome by a deep recession lasting more than 10 years, continues to face difficulties caused by the COVID-19 pandemic.
Of the three main business areas of Vinalines, maritime shipping and maritime services will continue to face challenges in the future, meanwhile, the field of seaport operations will slow down.
The corporation sets a target that its output of sea transport will reach more than 18 million tonnes by 2025, revenue of VNĐ10.77 trillion, and consolidated profit of over VNĐ1.23 trillion.
On the same day, Nguyễn Cảnh Tĩnh was officially appointed as general director of VIMC. Before that, Tĩnh held the position of acting general director of the corporation for four years. — VNS