Sacombank To Recruit 300 Staff By July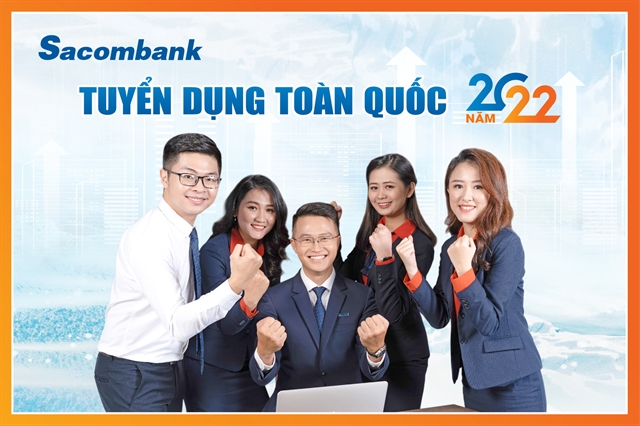 Sacombank is hiring 300 employees by July to help achieve its development plans.— Photo courtesy of the bank
HCM CITY — Sacombank is set to hire 300 employees by the end of July for positions like personal/corporate customer service associates, insurance sales associates, transaction office staff, and IT engineers and digital transformation experts.
With its goal of becoming a multi-functional retail and modern bank, Sacombank is increasingly improving its products and services to tailor them to the specific needs of each customer group and fostering digital transformation to improve operational efficiency and the customer experience.
Sacombank increased its customer base to 10 million by the end of last year and achieved many positive business results in the past year, which offers a good opportunity for candidates to advance their careers and increase their income.
It has effective human resource management policies with a specific promotion road map for each position. On that basis, each employee will actively develop a plan to acquire the necessary knowledge and skills to reach higher positions in their careers.
Staff are also regularly trained to improve their knowledge and skills.
With a wide network and a policy of hiring locally, Sacombank enables employees to choose a working location that suits their aspirations.
Lê Đức Thịnh, deputy CEO and head of human resource management, said: "The quality of human resources is the top concern for businesses. It is proven that businesses with effective human resource strategies have breakthrough achievements. In future this will be even more important when knowledge, creativity and emotion become the prerequisites for competition and development."
Last year the bank was named among the best companies to work for in Asia in 2021 by HR Asia for its transparent and professional HR policies and promotion, salary, bonus, benefit, and training mechanisms and investment in modern technologies for HR management.
Besides, it has a corporate culture that is humane and spreads positive energy and cohesion and which the bank has maintained and constantly promoted over the years. — VNS