Vietjet Launches Two Routes To India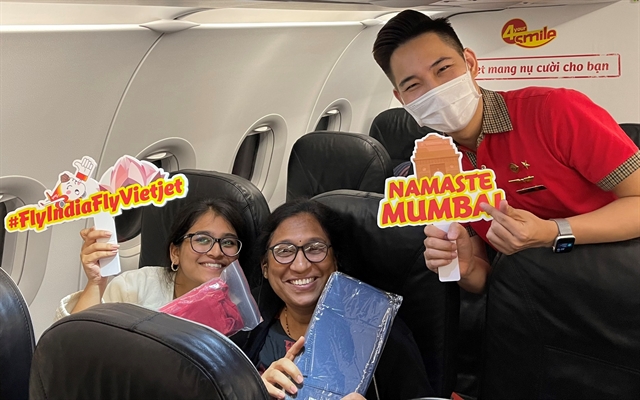 Passengers receive gifts from Vietjet's crew on the flight. — Photo courtesy of Vietjet
HCM CITY — Vietjet has inaugurated two direct routes connecting Hà Nội and HCM City with Mumbai - the financial, economic centre and the biggest city of India, a potential market with 1.4 billion people.
In his speech at the launching ceremony on Saturday, Vietjet Vice President Đỗ Xuân Quang said he believed that the two routes from Hà Nội and HCM City to Mumbai and the upcoming Phú Quốc- Mumbai one would promote the development of relations between Việt Nam's cities to the city of dreams Mumbai.
The two newest routes, which will operate 3 and 4 round-trip flights per week respectively, are expected to continue increasing the frequencies in the near future to serve the passengers' demand, according to Quang. 
In order to welcome the first flights to Mumbai, Vietjet opens sales of 19,999 promotional tickets from only zero đồng (excluding taxes and fees) for all routes from and to India  from June 7-9.
These discounted airfares will have flight period from July 1 to December 31 (excluding national holidays). 
Phuket connection
Earlier on Friday, Vietjet resumed its route connecting HCM City with beach paradise Phuket (Thailand), with four round-trip flights per week on Mondays, Wednesdays, Fridays and Sundays.
The flight departs from HCM City at 9am and lands in Phuket at 11am while the return flight departs from Phuket at 12pm and arrives at Tân Sơn Nhất Airport at 1.50pm.
Vietjet is the first airline to reopen the HCM City-Phuket route, bringing more choices and experiences to passengers going to Thailand besides the familiar destination of Bangkok.
It is also the airline with the most routes linking Việt Nam with the country. — VNS