Vietnamese Customers Spend More During Year-end Seasons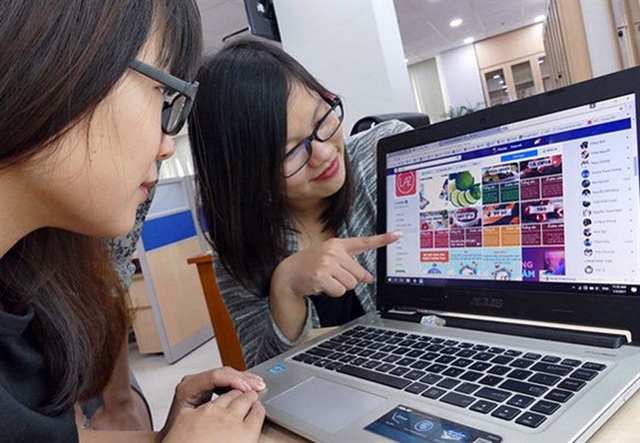 About 82 per cent of Tết shoppers said they often research things they want to buy online before purchasing them in shops. — Photo laodongthudo.vn
HCM CITY — Two-thirds of Vietnamese customers said that they will spend more during the year-end and Tết (Lunar new year) shopping seasons, according to the latest Facebook survey.
The survey said that in Việt Nam, 62 per cent of Gen X and Boomers (groups of customers aged above 40 years old) cared about "Online Shopping and In-store Pick Up" while 70 per cent have sent messages to at least one business during the year-end season.
On a global scale, shopping through mobile devices has become more and more popular, with 65 per cent of Gen X and Boomers spending more time using mobiles since the start of the COVID-19 pandemic. For Boomers, mobile research during holidays has grown by 20 per cent compared to the same period last year.
In Việt Nam, 82 per cent of year-end shoppers agreed that they looked for sales and bargains. Seventy per cent of surveyed shoppers say the Tết period was a good time to find the best deals. In fact, businesses in Việt Nam reported an increase in number of orders by almost two-three times compared to normal days during the three biggest shopping days, including November 11, Black Friday (last Friday of November) and December 12, according the survey.
Treating oneself with some "small luxuries" reflects the way people approach mega sale days and shopping for Tết.
In Việt Nam, eight out of 10 year-end shoppers said they looked to reward themselves with apparel, confectionery, food, household appliances and health & beauty products across the season. Up to 69 per cent of surveyed customers said that they had plans to spend "much or somewhat more" on Tết shopping in 2020 than in the previous year, said the survey.
The survey found that Vietnamese customers were more open to new products and services, both online and offline, during year-end seasons. 40 per cent of year-end shoppers in Việt Nam wanted authentic products and services with transparent information.
The survey suggested brands should personalise their approach to the GenX and Boomers on a large scale and deliver relevant messages to different target groups to enhance the customer interests and conversion during the year-end shopping seasons and Lunar new year celebration.
Discounts and promotions will continue to play a significant role as users have pushed back their purchase decisions due to COVID-19. Brands should give consumers more reasons and trust to reward themselves through relevant content and well-rounded customer consultation and care policies.
The year-end and Tết shopping seasons are opportunities for businesses to expand to their potential customers and reach new customers. Brands need an effective Omni-channel marketing strategy and take advantage of the power of social media to increase their customer interests and conversion in the upcoming holiday season. Brands should always be honest with customers, try new interactive formats like shopping via Live, games, and talking to consumers.
The online survey on shopping habits of shoppers across Southeast Asia from December 2019 to February 2020 was conducted by Facebook and YouGov, a global public opinion and data company. — VNS