Sacombank Offers Summer Vacation Deals On Credit Cards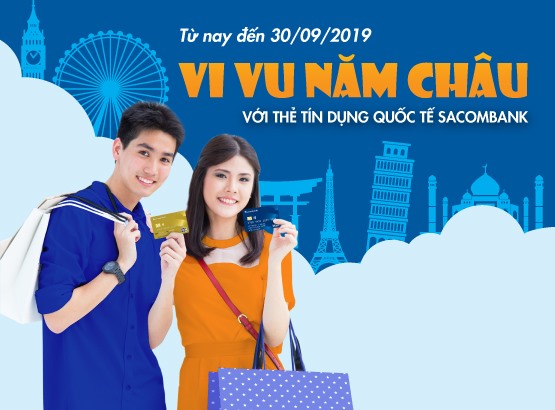 Sacombank international credit cards holders will enjoy promotions during summer vacation. — Photo courtesy of Sacombank
Viet Nam News
HCM CITY — Sacombank has announced promotions for international credit cardholders when they book air tickets, hotels and sightseeing services or spend when travelling under programmes it has launched for the summer holidays.
From April 1 to September 30, Sacombank international credit cardholders (excluding corporate credit cards) can send text message THE VIVU <last four digits on the credit card> to 8149 to get benefits when shopping and spending overseas, though not online.
CCardholderswill get a preferential foreign currency transaction fee rate of just 1.5 per cent when they spend at least VNĐ5 million (US$215.5).
Sacombank Visa Signature cardholders will get their Sacombank air miles tripled, enabling them to redeem tickets from many airlines, get Vietnam Airlines reward miles or redeem for annual fees or cash.
Other international credit card holders (except Sacombank JCB Ultimate card, Visa Platinum Cashback card) will have their reward points tripled for redemption against gifts under the Sacombank Sapphire programme.
From April 4 to June 28, Sacombank Visa cardholders will receive a discount of VNĐ500,000 when buying international air tickets on Thursdays and booking hotels abroad on Fridays via Traveloka website or mobile app.
Besides, they will get a 10 per cent discount when paying for "tour and sightseeing" services on Sundays via the Klook website or mobile app, with an unlimited number of incentives.
Customers can contact the bank's hotline at 1900 5555 88 or 028 35266060 or access khuyenmai.sacombank.com to get more information about the programmes. — VNS