PNJ Green Living Moment Photo Contest, A Big Hit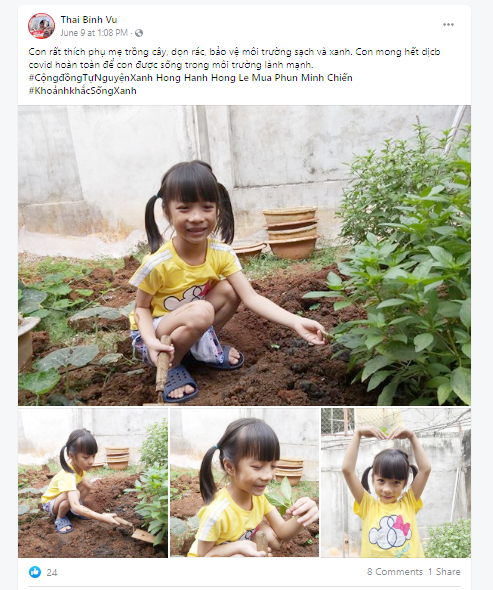 A Facebook user shares the activities she and her daughter undertake to protect the environment around their place of residence. — Photo courtesy of PNJ
HCM CITY — The Green Living Moment photo contest organised on Facebook by jewellery company PNJ, received a huge response.
The competition was part of the company's Green Voluntary Community project to help protect the environment and encourage people to pursue a green lifestyle.
Mai Nữ Huyền Trang of Đà Nẵng, Đinh Thị Hồng Hạnh of HCM City and Phan Nguyễn Bảo Tín also of HCM City won the first, second and third prizes.
Organised from June 5 to 12, the contest attracted more than 1,000 participants who shared their green living moments such as planting trees, collecting garbage and doing other environment-friendly things on their Facebook page.
Huỳnh Văn Tẩn, PNJ's communications director, said: "Green living is one of the important criteria in the corporate culture story of PNJ. To build a green voluntary community, each member of the PNJ family must be a pioneer in living green and spreading that lifestyle to everyone."
In recent years eco-friendly living has been attracting great attention as people realise the need for protecting the environment and their health and that of their family and society.
PNJ has undertaken a number of environment-friendly activities like "Thank you for not littering", and "Redeeming garbage for gifts - for a green planet." — VNS