MB Launches MB Private, Targeting High Net Worth Individuals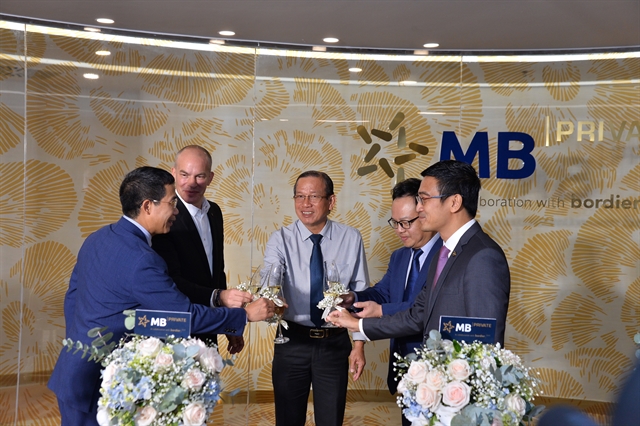 The launching ceremony of MB Private in HCM City on Tuesday. — VNS Photo
HCM CITY — The Military Commercial Joint Stock Bank (MB) has officially launched MB Private, an exclusive wealth management arm targeting high net worth individuals, which will be based at its landmark MB Private Banking Center in HCM City.   
With shared and guided expertise from Swiss private bank Bordier & Cie, MB Private is the first local bank to provide a private banking service in Việt Nam. 
The newly launched unit aims to provide a wide range of solutions including corporate banking, investments, insurance and credit solutions, inheritance and estate planning as well as bespoke lifestyle services. 
MB Private offers advisory, financial services and dedicated relationship managers with local expertise and global know-how. It provides tailored wealth management, going beyond the standard array of banking services. 
Supported by Bordier, these financial solutions will be personalised around the clients' own investment objectives, risk appetite and life goals, while ensuring that their legacy remains for generations to come. 
True to private banking form, an MB Private client will have a trained relationship manager to help guide them in meeting their objectives. In addition, clients will also gain exclusive access to MB Private's bespoke services which tap on Bordier's longstanding global network of best in class solution providers.  
Together with Bordier, MB Private will organise a series of events catered to give its clients a first-hand look at wealth management solutions. The knowledge sharing sessions will focus on topics such as succession planning and investments in real estate with an aim to spark conversation and ideas among like-minded private clients. 
"Private Banking is a long-standing service designed for individuals and families with significant wealth. The group is witnessing a substantial increase in size in Vietnam. However, although services such as asset management or investment advisory have existed for a long time in Vietnam, anchoring and delivering a holistic solution like Private Banking is still a challenge that has not been solved for domestic financial institutions.
This is the motivation for our collaboration with Bordier & Cie, a leading Swiss private bank with over 175 years of experience, to create a top-quality service for Vietnamese high-net-worth individuals," said Luu Trung Thai, CEO and vice chairman of MB.
MB was founded in 1994. After nearly 24 years of development, the bank has a network of 275 transaction offices in key provinces and cities, two foreign branches in Laos and Cambodia, one representative office in Russia, and six member companies. — VNS