Businesses Help Each Other Mitigate Covid-19 Hardship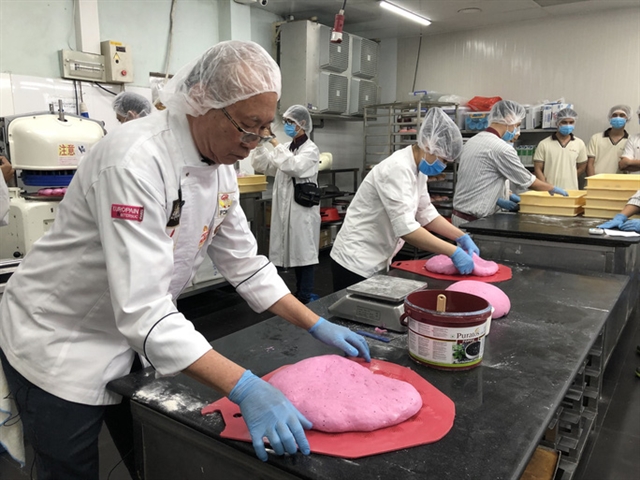 ABC Bakery buys two tonnes of dragon fruit daily to make a new kind of bread while supporting the farmers hit by their inability to export to China because of the Covid-19 outbreak— Photo: nld.com.vn
HCM CITY— Businesses are supporting one another by buying goods from each other to help mitigate the worst effects of the Covid-19 epidemic.
It has been more than 10 days since ABC bakery on Nguyễn Trãi Street in District 5 HCM City invented a new kind of bread from dragon fruit, huge quantities of which were going unsold due to the outbreak. Customers queue up to buy it.
Kao Siêu Lực, general director of ABC Bakery, told Thanh Niên (Youth) newspaper that his company has bought 30 tonnes of the fruit in two weeks.
It had planned on buying 100-200kg of dragon fruit a day, but, thanks to the demand, had ended up buying two tonnes instead, he said.
The bakery is next planning to make bread using watermelon and banana, and then more new products using agricultural products such as taro and durian, he added.
The price of dragon fruit has increased from VNĐ10,000 (US$0.43) to VNĐ40,000 but the company would still sign long-term contracts with farmers to buy their output, he said.
Nguyễn Quốc Trịnh, head of the Long An Province Dragon Fruit Association, said: "It will help farmers not depend on the China market like they used to."
Business groups and authorities are helping link farmers and businesses.
Besides the agricultural sector, the garment industry is also facing difficulties.
The HCM City Textile and Garment - Embroidery Association has helped companies sign contracts to supply anti-bacterial cloth masks to the city Union of Trading Cooperatives (Saigon Co.op) and the Pharmacity Drugstore chain. — VNS